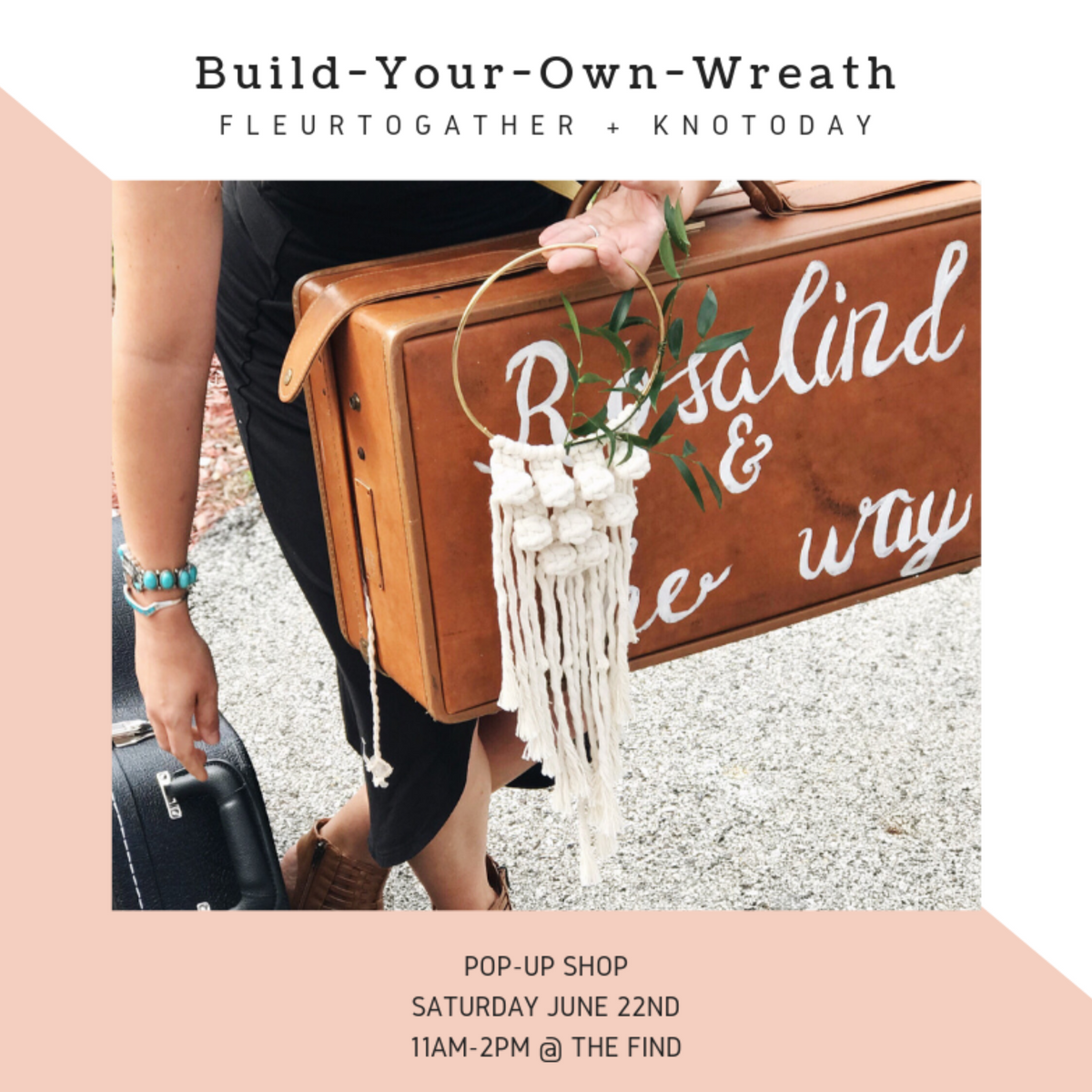 This weekend we'll be hosting a super fun pop up collab with Knotoday and Fleur To Gather (more info here). We asked the ladies behind both these brands to share some fun tidbits about them, so below you'll get 20 Fun Facts for the price of 10! What a steal. 
Get to know these two creative ladies then come help us support their indie businesses this weekend!
Cheyenne Gonzales of Knotoday
Bright and lively Cheyenne specializes in fiber arts, using classic techniques and materials but with a modern, stylish eye for wall hangings, plant hangers and earrings, which are super popular at The FIND.
1. She's a twin, and has two older twin sisters!
2. Her favorite childhood toy was a congregation of about 20 rubber alligators (yes, that's the appropriate group name) that she carried in a sandwich baggie wherever she went.
3. Her favorite TV show is Bar Rescue.
4. She dreams of eating red onions like apples.
5. When people can't remember her name, they usually call her Savannah, which is her younger sister's name.
6. She owns 32 Jim Carrey movies, 2 copies of his children's book and all 6 seasons of In Living Color. #obsessed
7. She ate dish bubbles as a child. 
8. She won worst bowler 4 years in a row at the Auntie Anne's Christmas Party (her first job).
9. She sold woven potholders in her front yard when she was 5 years old (AKA the start of Knotoday).
10. She can do a killer Cher impression (and we encourage everyone coming to shop on Saturday to ask her to do it)!
Aimee McClure of Fleur To Gather
Aimee has always been creative (she studied drawing and painting in college), and as a full time mother to two boys, she founded Fleur To Gather as a way to incorporate florals into every day life and events, which quickly grew into unique pop up events and personalized bouquets. 
1. She was vegan for over 10 years but croissants made her cave, so she's now vegetarian. 
2. Her first car was a loud and leaking red Ford Festiva (with a tape deck that often played Phil Collins). 
3. Her ideal dinner is a cheese and pastry board.
4. She's terrified of squirrels and other generally friendly wildlife. 
5. Coffee is a high priority for her.
6. She loves bringing people together over flowers and food, and loves any excuse to throw a party. 
7. Beach days with her family are her favorite kind of days.
8. It's been 8 years since she created her last piece of fine art. Florals have allowed her to reconnect with her artistic side after a long break from creating. 
9. She loves sci-fi movies but has never seen Star Wars. 
10. She can't decide if she'd rather have a country life or a city life, and would love to find some happy medium that suits both.