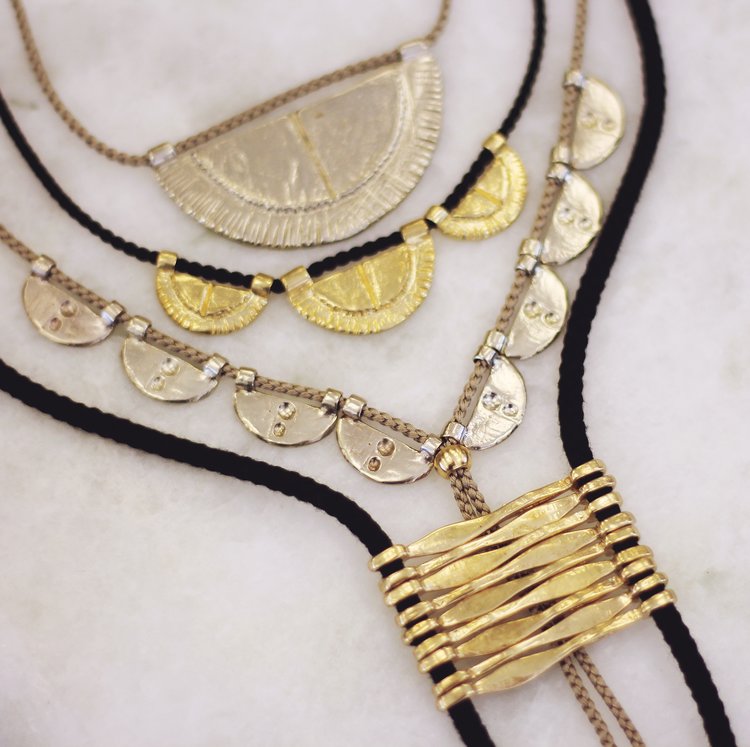 We believe the best gifts come in the smallest packages.
We believe the right accessories can make all the difference.
We believe you're bound to fall in love with at least one of the latest and greatest pieces of drool-worthy jewelry to arrive at The FIND.
St. Clair
Inspired by natural elements, Cameron St. Clair crafts her designs with strings of beads, dyed natural fibers, hammered as well as hand carved/casted metals for a raw yet feminine vibe with a bohemian spirit. Each piece is made in downtown LA and is made to order. We love these necklaces on their own or layered for bold statement look.
Seaworthy
This line of handmade jewelry focuses on both craftsmanship and community, using the hashtag #accessorizewithintention to promote their mission. The four women who run the brand are committed to authenticity and quality in their designs, sustainable manufacturing and responsibility to community and environment. These qualities, in addition to the timeless and elegant product they sell, make the brand a perfect fit for us.
bluma project
Brooklyn-based bluma project is inspired by cultures around the globe and handcrafted by artisans in Peru, India, Guatemala and other developing nations, using time-honored techniques. The brand values color and texture and each piece adds a lively bit of both to even the most simple of ensembles. Your favorite denim and a plain white T become a lewk when paired with a bold piece from this line.
Sidai Designs
A collaboration with Maasai women, Sidai Designs produces unique, handmade jewelry using traditional beading techniques rooted in the culture's beading traditions. We're especially happy to carry brands in store that strive to provide economic stability to women and their families in developing nations. The intricate pieces are stunning, their exquisite metallic strands and beads catching the light just so... 
Virgins Saints & Angels
Designer Cheryl Finnegan, aka Finn, was inspired to create this line of jewelry after moving to San Miguel de Allende, Mexico, a colonial town steeped in old-world imagery and meaningful symbols. She channeled an obsession with the Virgin of Guadalupe and Mexican folklore into a keychain, followed by a necklace which eventually led to an induction into the Council of Fashion Designers of America (CFDA). The line blends fine materials with centuries-old, traditional jewelry-making methods, each piece with a vibe that is both iconic and modern.
Come check these glittering pieces out in person. And if you need us to drop a hint to a certain someone about what you'd like to unwrap this season, say the word.