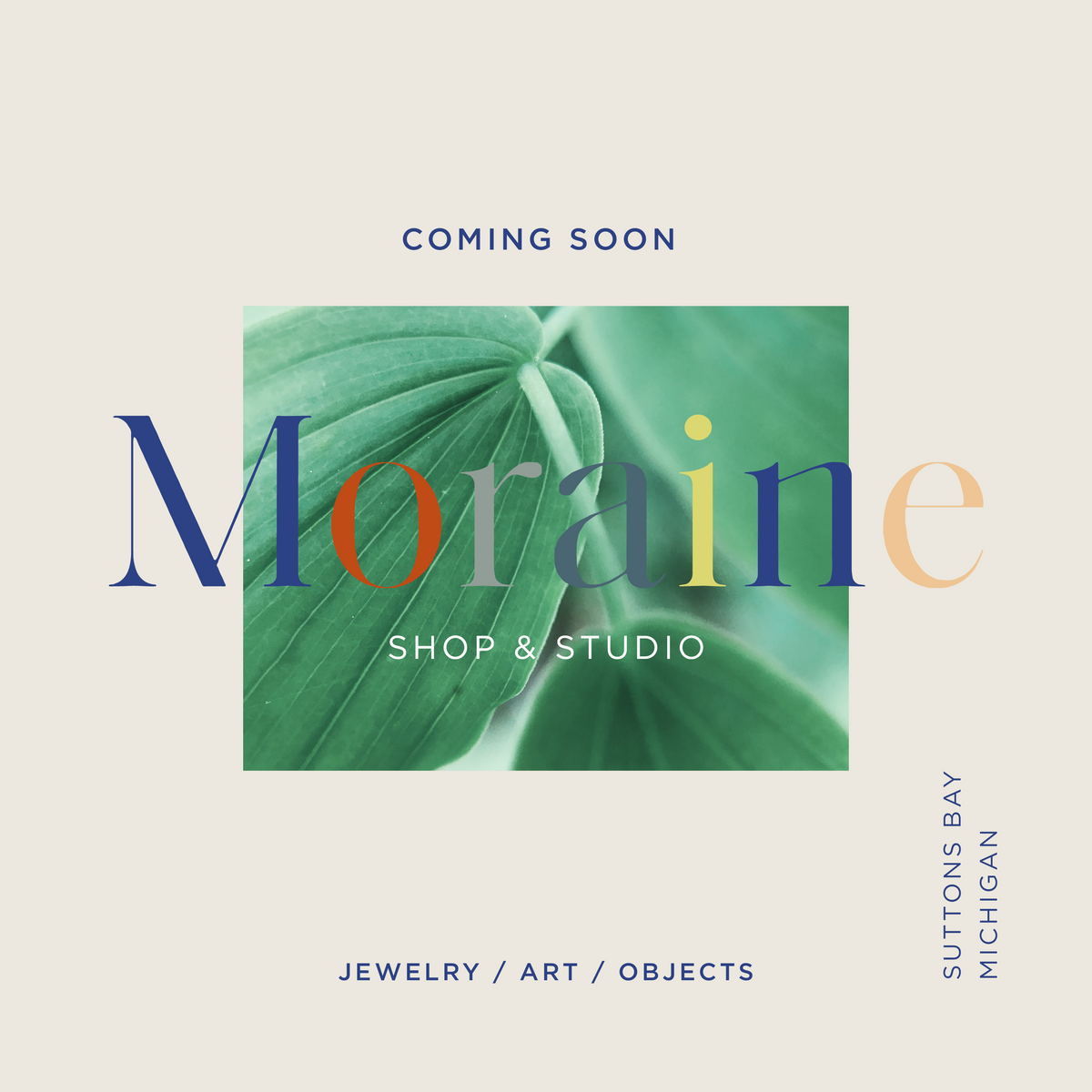 When one door closes, another one opens, as they say...
After Melani Wilson shuttered The Trove in Roanoke, sister store to The FIND in #DTFW, she quickly had her sights set on a property in her beloved northern Michigan. Settled in the charming town of Sutton's Bay is her newest concept: Moraine Shop & Studio, featuring a tasteful selection of handmade jewelry, art decor and more. The boutique will house gifted artisans from Michigan and beyond, and the studio will host workshops and events by an eclectic mix of talented makers of all varieties. 
Opening a shop in Michigan has been on Melani's wishlist for some time, but until recently, she was reluctant to create a business in a treasured family vacation spot. That is, until she met Kelsey McQuown, a fellow jewelry designer and now business partner in Moraine Shop & Studio.
Kelsey, originally from Frankenmuth, Michigan, was raised in a family of artists and creatives and is a celebrated jewelry designer in her own right. She began working with precious metals in 2013 while living in Chicago, taking a wide variety of classes and creating one of a kind jewelry designs in her basement studio. In 2015, she left her 9 - 5 research position and decided to focus on filigree designs as she moved to New Zealand with her (now) husband. 
"For the next year, I used picnic tables as my jeweler's bench and spent my days hiking the NZ countryside. During our time in NZ, I was able to deeply explore my own creativity and how it relates to the natural world. Even in some of my more abstracted work, the inspiration can almost always be traced back to a moment I experienced in nature."
After her time abroad, Kelsey moved to the shores of Lake Michigan in 2017 with her husband, spending most of her personal time reveling in the abundance of natural beauty and outdoor activities.
So when Melani met Kelsey, they instantly dreamed up this new venue to share their own work, as well as feature unique art and objects by a variety of artists and host events and classes, fostering the creative communities they've both loved and appreciated throughout their respective design careers. Moraine will be "a place to showcase unique and lovingly crafted jewelry and goods, and will also serve as a creative meeting place for the community -- a place to come together to learn, create, collaborate and celebrate the incredible talent of artists and makers."
See a snippet of Kelsey's life in Leelanau County, as well as her beautiful, modern filigree jewelry on Instagram @kelseygrape, and be sure to follow @shop_moraine for all the latest from Sutton's Bay. Then join Melani and Kelsey for the grand opening as they open Moraine Shop & Studio to the community for the first time!