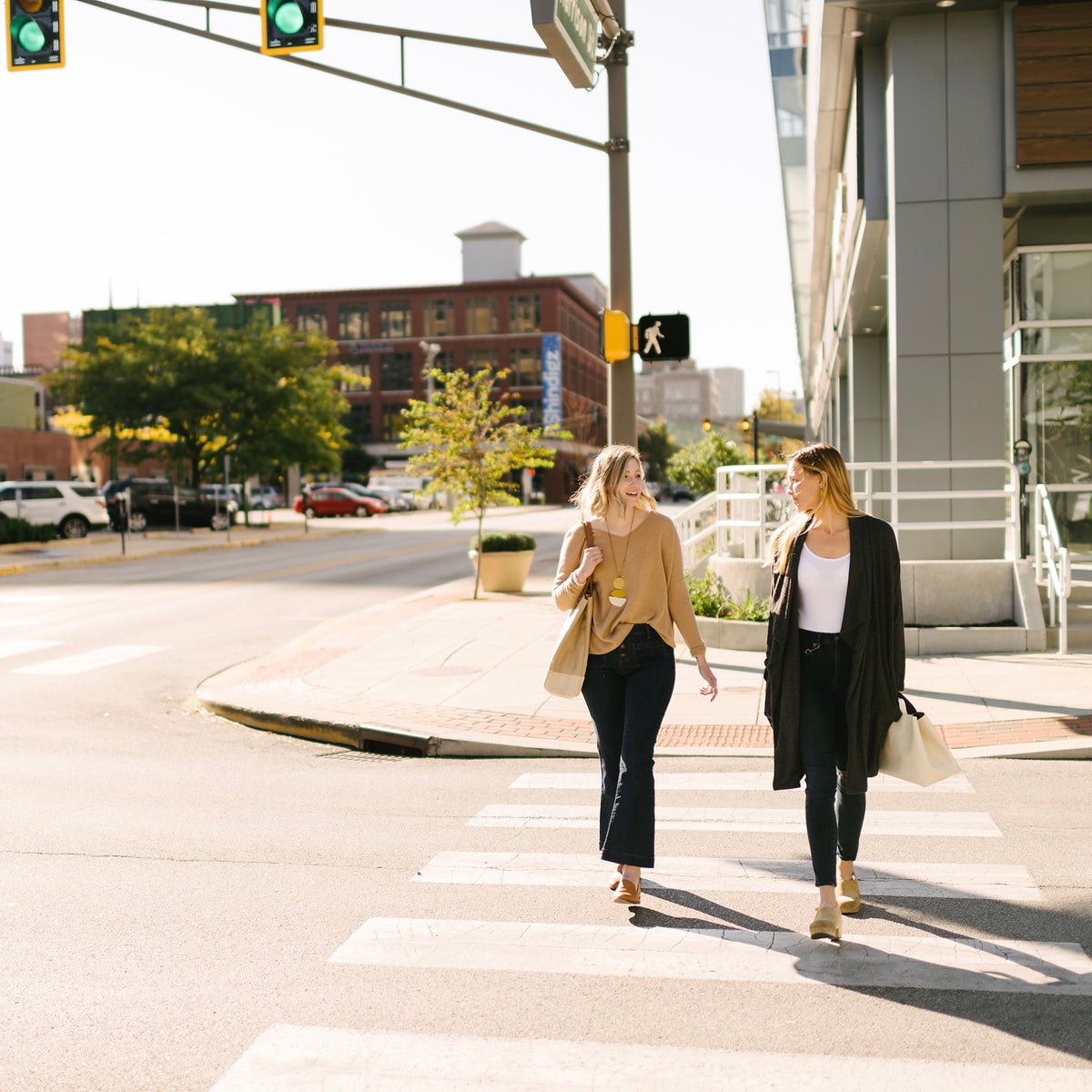 Due to the mayhem caused by Covid-19 restrictions and shifting our store into e-commerce mode, we've been extra busy bees in #DTFW these past few months. There have been many challenges in running a retail business during a global pandemic but we continue to look on the bright side and forge ahead with fun plans, great new products and a renewed spirit, thanks in part to two new members of Team FIND! Meet the fantastic ladies who've joined us at the intersection of Wayne and Harrison, Kaylee Wilson and Emily Giant.
Kaylee Wilson joined our ranks right as the pandemic started, helping us to whip our social media channels into shape as our store instantly became an e-tail shop. She brings lots of digital marketing experience to us and delights us with her own style blog, Girl Meets Stripes. This native Iowan also lived in Wisconsin before moving to Indiana and while she jokes she's just two states short of a Midwest BINGO, we're hoping she delays completing that and stays put with us here in Indiana for a while. 
How do you describe your personal style? 
Most days I'd say casual, minimalist and menswear inspired. However, like any good pop album, I've got the RANGE. I'll occasionally pull out a very ruffly dress or floral wide leg pants for a statement. I'm also known to wear obnoxiously large scrunchies for any and all occasions. I have an absurd amount of denim, stripes and loafers.
What is your must-have beauty product? A clean and lightweight moisturizer (cause ya girl can't dismantle the patriarchy with dry skin).
What is on your current wish list at The FIND? Spanx Faux Leather Leggings and all of the wicker/rattan home decor! Also, the Pumpkin Linnea's Lights Candle, because fall. Oh and The FIND's exclusive VOTE Tee. Duh.
Current favorite song? If you think I've listened to anything but Taylor Swift's folklore album for the last two months, you don't know me at all. I did an official™ ranking of the album on my Stories a few weeks ago, but in case you missed it, "the 1" and "invisible string" are my faves.
Favorite place for take out in Fort Wayne? At casa de Wilson, we're big fans of Agaves, Raimondo's (their BBQ Chicken Pizza is out of this world) and Nawa.
Emily Giant joined us earlier this Fall and hit the ground running, moving back to her hometown of Fort Wayne from New York City. September has been a whirlwind for her as she moved from a 600 square foot apartment in Manhattan to her new Indiana farmhouse and gave our store a beautiful head to toe makeover in one fell swoop. Seriously, if you haven't been inside The FIND lately, you need to come see us soon. Emily is multifaceted, as in addition to her extensive retail merchandising skills, she's also played a crossbow killer in a B-list horror movie. 
How do you describe your personal style? Queen of casual, but not necessarily comfortable. If you invite me to your black tie event I will probably try to throw a leather jacket over my dress or wear combat boots. I would rather wear/support an up and coming label than an established designer, and I love it the most when my clothes have a good story of how they wound up in my closet.  
What is your must-have beauty product? DRY SHAMPOO THE END
What is on your current wish list at The FIND? All of the incredible coffee table books! I never have time to read them at work but, judging those books by the cover, they are gorgeous. 
Current favorite song? The theme song to the show Succession. It makes me feel like a boss. Plus, radio songs give me agita. 
Favorite place for take out in Fort Wayne? Antonuccio's. And I am going to be honest - I mostly just take out the wine.