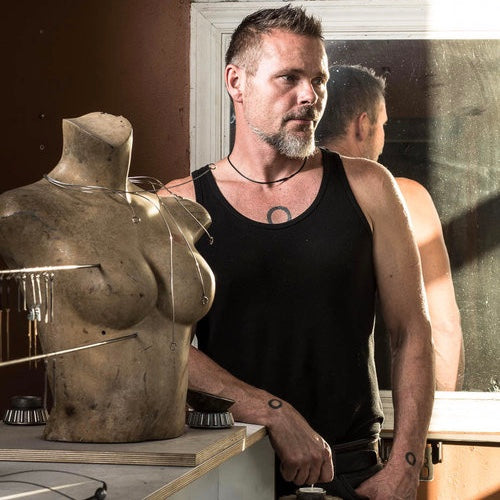 Artist and designer Mark Schieferstein, based in Asheville, North Carolina, creates jewelry from salvaged metal, resulting in unique, one of a kind wearable art with an industrial, stylish vibe. His handcrafted earrings and necklaces are made of parts from found objects such as umbrellas, typewriters, kitchen whisks, industrial flooring staples and computers, repurposed and reworked into lightweight, signature pieces one would never guess came from a scrap yard. The designer is especially into the metal honeycomb shapes found inside computers, and those pieces are among his best sellers.
Schieferstein grew up in Fort Wayne, salvaging with his parents, reworking, reusing and repurposing items they'd find along the road during everyday life. "It would take us an hour to go four miles because we'd always be stopping", he says. His grandmother would sort through discarded items behind a local stationery store, providing him with the paper he'd draw and paint on as child. His grandfather worked at GE, and Schieferstein would marvel at all the saved machine parts and tools lining his grandfather's garage. When his grandfather passed away in 2009, Schieferstein inherited his collection of nuts, bolts and the like, which was his initial inspiration to assemble and weld metal creations of various sizes, styles and functions. He enjoys the efficiency of salvaging, and is creatively inspired by thinking of cool ways to reimagine the materials, recycling whatever is left over. This practice is easy on the environment and allows for a more affordable price point for his clients.
He says Fort Wayne was an amazing place to grow up, and that his high school and college experiences, at Norwell in Wells County and St. Francis respectively, offered him a solid and creative foundation in various forms of art and expression, especially figurative drawing. Scheiferstein left Fort Wayne at 26 years old in an effort to push the envelope of his creative desires further.
While Scheiferstein has explored a few artistic pursuits, including painting and creating large scale metal home furnishings (think large mirrors, staircases and railings, as well as massive steel planters) in the last few years he's become more focused on his jewelry collection, which he sells in more than 15 boutiques and shops in Asheville and beyond, as well as at his own studio, pop up shops, special events and through his website.
Scheiferstein is excited to travel back to Fort Wayne to visit family, reconnect with friends and present Skrap Monkey at The FIND. And we're beyond thrilled to welcome him into #DTFW!
Come shop the Skrap Monkey pop up, and meet the charming designer, on Saturday, October 27th from 12 - 3p.