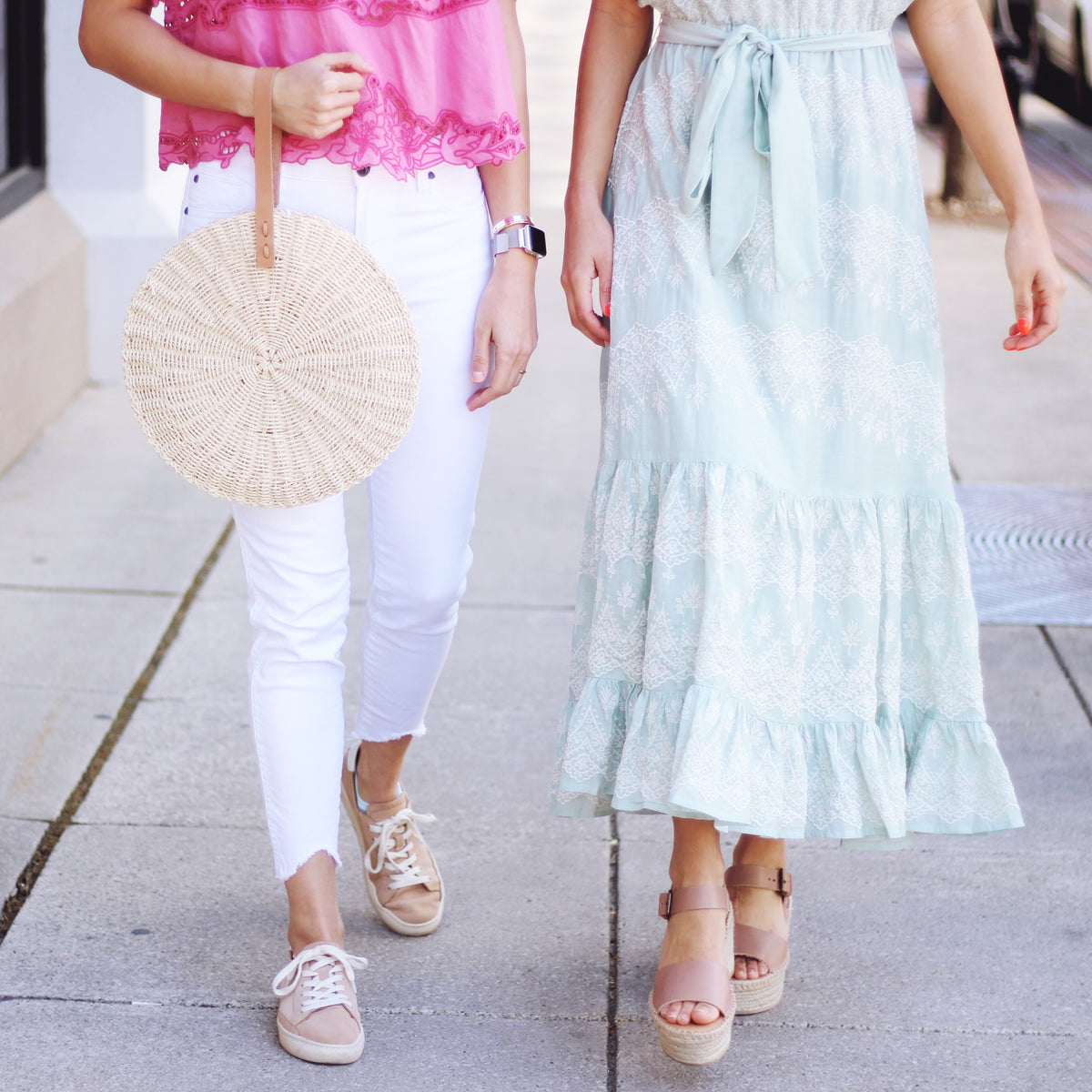 We're so excited about all the spring color, on the streets in #DTFW, and in our store. Seeing all the bold, public art, popping in to grab coffee at Fortezza, walking to lunch at a growing number of indie restaurants, or shopping at our fellow small biz retailers within our downtown blocks, has made us crush harder on Fort Wayne. Our city is lovely and engaging, and becoming even more so by the day! See how #DTFW has inspired some of our favorite looks for Spring...
On Liz: LoveSam top, KUT white denim, Soludos sneakers, Quay sunnies, The Beach People purse 

On Heather: LoveSam Dress, Soludos espadrille wedges 
On Heather: Beach Lunch Lounge top, Beach Lunch Lounge paper bag stripe pants, Soludos sandals, Jenny Bird Earrings and Necklace, Clare V handbag
On Liz: Xirena Dress, Soludos sneakers, Quay sunnies, Clare V handbag
On Heather: Xirena black dress, Quay sunnies, Soludos espadrilles, Sibilia necklace, The Beach People handbag
On Liz:, Xirena Yellow Top , Kinly Black culottes, Quay Sunnies
Clare V handbag + additional strap, Soludos sneakers

On Heather: DL1961 Olive Wide leg pants, Fifteen Twenty Top, Dear Survivor Earrings, Clare V handbag, Soludos sandals
Our city is brimming with talented artists, and we're so thrilled they can share their gifts with all of us by beautifying Fort Wayne. We're anxiously awaiting the next public art installment at 840 S. Calhoun!
Learn more about the wonderful Art This Way project here, and check out the Fort Wayne Public Art Map here.
And, come shop these looks and so! much! more! at The FIND in #DTFW.