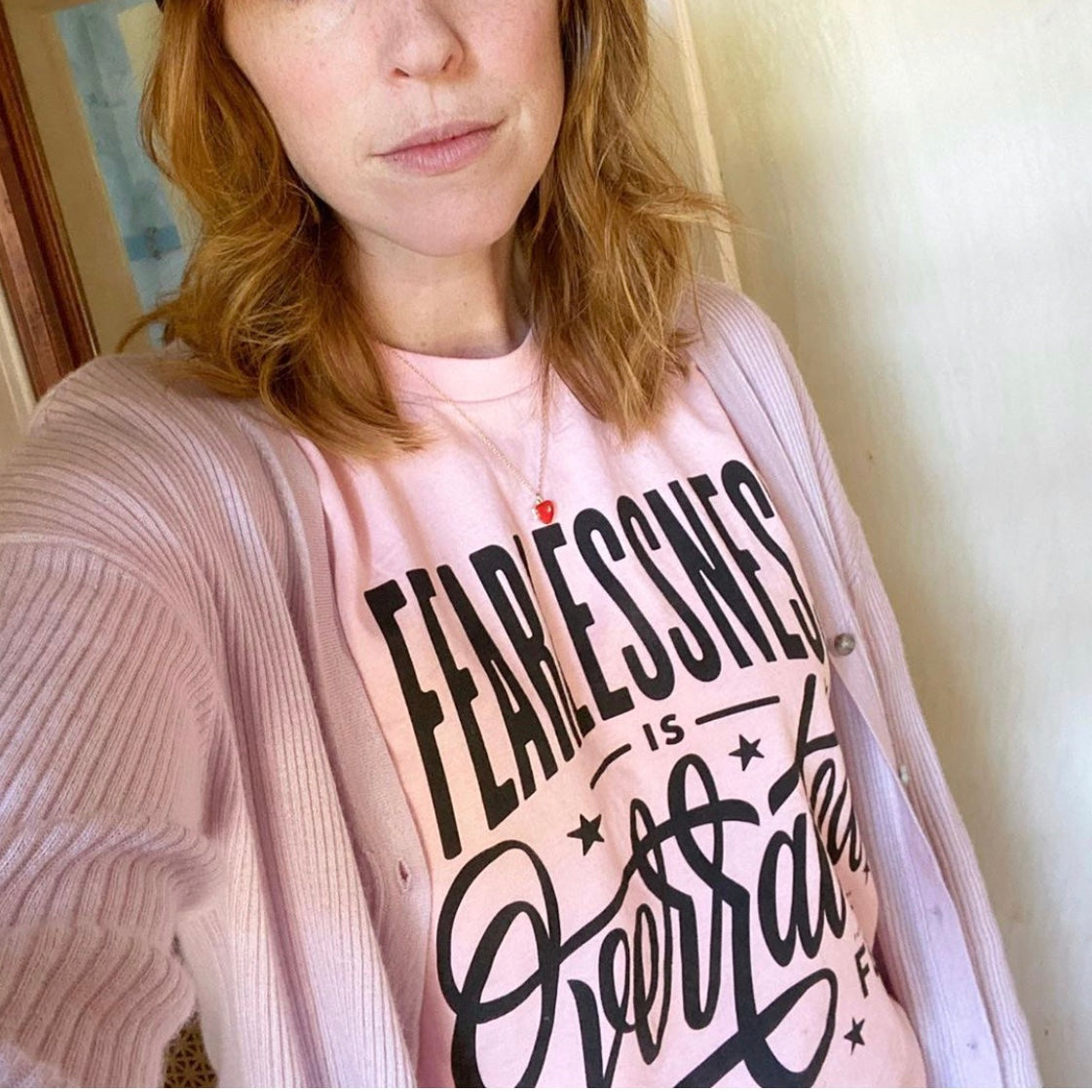 In the midst of frenetic 24 hour news cycles and the dizzying swirl of things to keep track of, we thought it'd be helpful if we circled back around to one of our favorite initiatives, and one of our favorite people. 
* The Friends & Family Fund for Southeast Fort Wayne, initially spearheaded by Kristin Giant and her company Hyper Local Impact, has received commitments and raised money through various events and campaigns to just about $400,000 so far! Whoa. 
* The Fearlessness is Overrated T shirt (as seen on KG above in pink), designed by local artist Matthew Plett, has already raised over $1000 and counting for the FFF. It comes in red, green, pink, white and grey, and is available here for $30, with all profits heading to the FFF.
* In the coming days, the FFF will announce the first round of investments for the SE quadrant of the city of $100,000, and Junk Ditch will be launching their specially brewed Hyper Local Pale Ale, with three limited edition can designs, created by local artists E-Clyps, Lyndy Bazile and Theopolis Smith. The cans will be available starting this Saturday, September 5th at 5pm, for dine in or carry-out at Junk Ditch Brewing Company, or for dine-in only at a number of area restaurants, including Bird + Cleaver, Hoppy Gnome and Solbird Kitchen & Tap, with profits being donated to the FFF. We're totally in love with Lyndy's can design, and are big fans of her work, as you may already know... 
* And, Kristin is moving her HyLo headquarters to The Landing, sharing office space with Utopian Coffee's corporate offices. She'll be in the hottest of spots in our beloved #DTFW (seriously, The Landing is just so cool) and you'll no doubt see her dreaming up new ideas while ordering a cuppa from Utopian. Give her a wave and tell her we say hi!
So, lots of exciting moves and still plenty of ways to get involved with both FFF & HyLo. Come feed our dedicated Meters with a Mission meter, which benefits the FFF, and which was designed by artistic powerhouse Lyndy Bazile. Then go buy some beer this weekend!
Keep up with Kristin Giant and all things Hyper Local Impact on Instagram, where she shares up to the minute news, ideas for engagement and more. And bookmark the Friends & Family Fund for Southeast Fort Wayne website to get and stay involved.