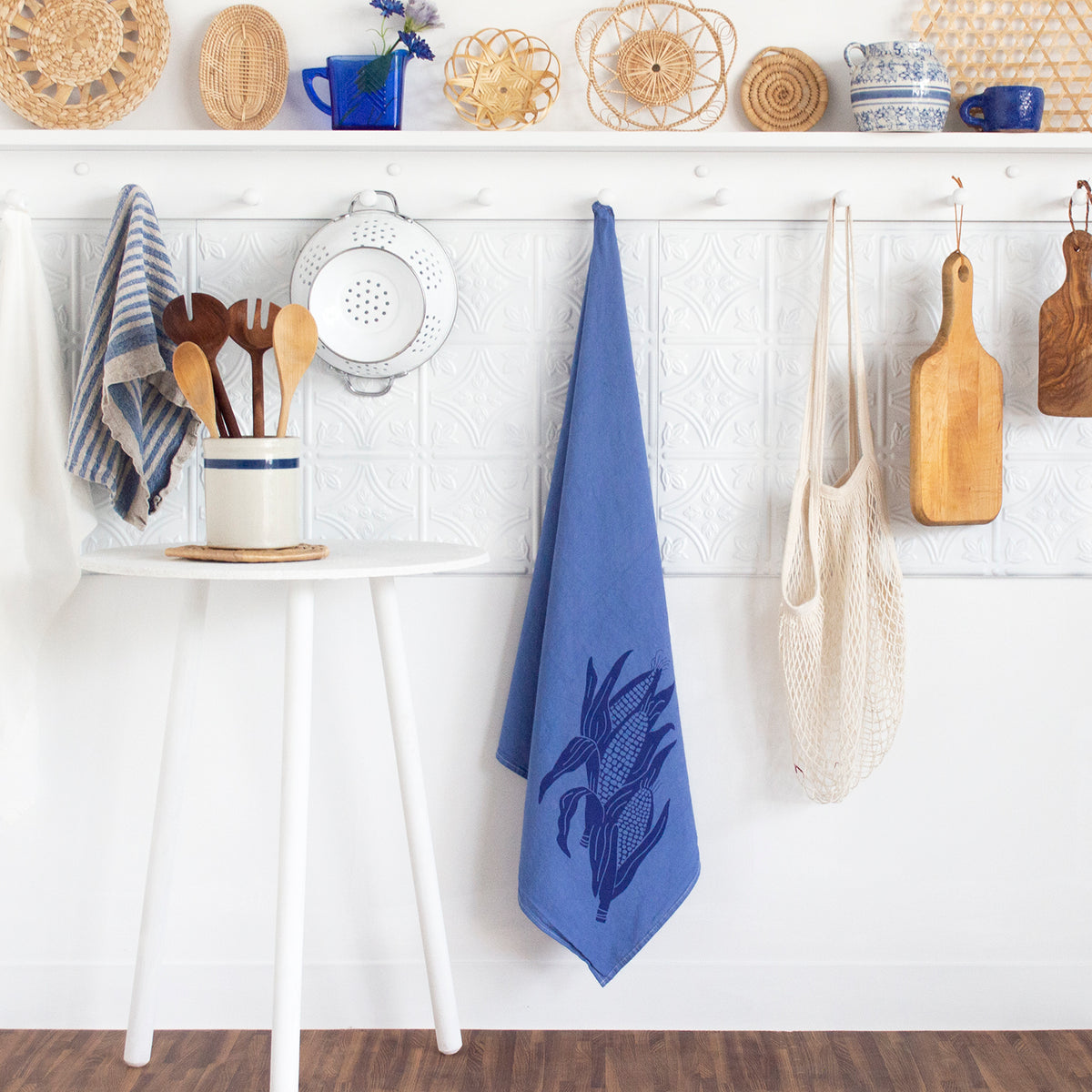 We're big fans of local artist Rachel Kroh and her Heartell Press line of letterpress printed greeting cards and art prints, made from hand-carved woodblocks. Her design style is inspired and the corresponding messages are beautiful, sentimental and heartfelt. When we heard she was breaking into the textile category with kitchen towels, we jumped right on board and placed an order for The FIND. 
While preparing to launch Heartell Press' Generous Kitchen Towels in store and online, we had a quick chat with Rachel herself about this wonderful new offering from her brand. 
What was your inspiration for this new category? I've always wanted to design textiles, but because our business is mostly wholesale, it's daunting to add a new product category (since we need to be able to produce things on a large scale). I think I've been letting the fear of the unknown hold me back, but last year cured me of that thanks to the experience of having our business basically grind to a halt. We ramped back up thanks to the incredible store owners we work with who rolled up their sleeves and figured out how to pivot and transition through sheer will and grit. It showed me that we don't have to do things the way we've always done them, and freed me up to experiment. 
Thankfully, we made it through and we've actually seen a lot of growth, which has been a shock. I'm so grateful to The FIND and all the creative and hardworking people at the 500+ brick and mortar stores we work with that make it possible for me to keep doing what I do. All the love and hard work and patience that has kept our industry going through this challenging time has felt like a call to action to me to create things that are beautiful and sustainable and useful enough to be worthy of the wonderful people we work with.
I also had our second son in November and took a three-month maternity leave, so I kind of surprised myself by finally accomplishing this goal this year. But there's nothing like having a sleeping baby nearby to inspire efficiency! I did a lot of the drawing and sourcing for this project while Charlie was napping in the little nursery we have at the studio so it was truly a labor of love.
Why kitchen towels as your first foray into textiles? Cooking and eating is a daily source of happiness for me. I find that gratitude comes easily with a perfectly ripe piece of fruit or a slice of handmade bread in my hand. And that happiness turns into joy when I get to share a meal with people I care about. We all went a long time without being able to safely cook or eat together and now that we can carefully gather with our vaccinated loved ones it has made me appreciate the simple joy of those experiences even more. Preparing a meal (even a simple one) is my favorite way to express love and care. So the images are drawn from my own love of cooking and eating and the opportunities for connecting with others those moments create. 
What can you tell us about your design process? I've purchased many kitchen towels over the years with gorgeous designs by talented artists. But it always makes me sad that since they were mostly printed on white fabric, by the time I've used them a few times they aren't as pretty anymore. With an infant and a toddler at home, we lean heavily on our kitchen towels. Aside from cleaning copious spills, we use them for wiping little hands and faces and drape them over our shoulders as burp cloths. Sometimes when my toddler is having a hard time sitting at the table we spread one out and let him have a "picnic" on the floor. I'm not above using one to wipe off a deck chair or a slide after it rains. But after all that, I want to be able to put it through the laundry and then use it to serve a beautiful spread of perfect summer berries from the farmer's market or line a basket to catch the crumbs from a fresh loaf of my husband's sourdough. They say that food tastes better when it looks better and it's definitely true for me. I get as much pleasure from the colors and shapes and smells as I do from the flavors. I wanted to make something that would add to all that visual appeal. Special enough to dress up the table and rugged enough to clean up anything that falls off of it! 
I find that colored towels look better for longer so I knew I wanted to start with dyed, colored fabric. Since I put in a lot of effort sourcing colored fabric I gave myself the design challenge to make the focus of each image the color of the towel. It was fun to figure out what I could draw to celebrate the vivid colors of the dyes. For example, the lemons are the yellow of the towel and I drew one of those great string market bags around them -- it's amazing how much produce you can fit in one of those!
It was important to me to have our towels be as sustainable as possible so they are dyed with non-toxic dyes and printed with water-based inks. I actually worked almost as hard on the packaging as on the towels themselves and ended up with an adhesive belly band label that is on 100% recycled paper and is 100% recyclable, including the adhesive and the release liner (that's the backing that any sticky label comes on--they are usually paper coated with plastic but we found a company that makes a zero-waste release liner that is recyclable in the paper stream).
Anything else you want readers to know about these lovely towels? My husband came up with the name Generous Kitchen Towels and I love that it works both in the sense of the proportions (they are 30" x 30" - I love a big towel!) and also in the sense of sharing. It makes me so happy to think of all the thoughtful ways people will come up with to give them to each other. You could tuck a gift certificate for food delivery in with a towel for a family with a new baby (like I said, they work great as a burp cloth as well!).  Or wrap one up with a block of cheese and some fruit for a picnic-themed birthday gift. We are waiting to travel until the vaccine is available for our small kids but I can't wait to bring a Generous Towel with some Indiana popcorn for a host gift when it's safe again. Until then I hope these towels will make it easier to cultivate generosity in our kitchens no matter what's happening outside!
FIND the Generous Kitchen Towel collection by Heartell Press online or in store!