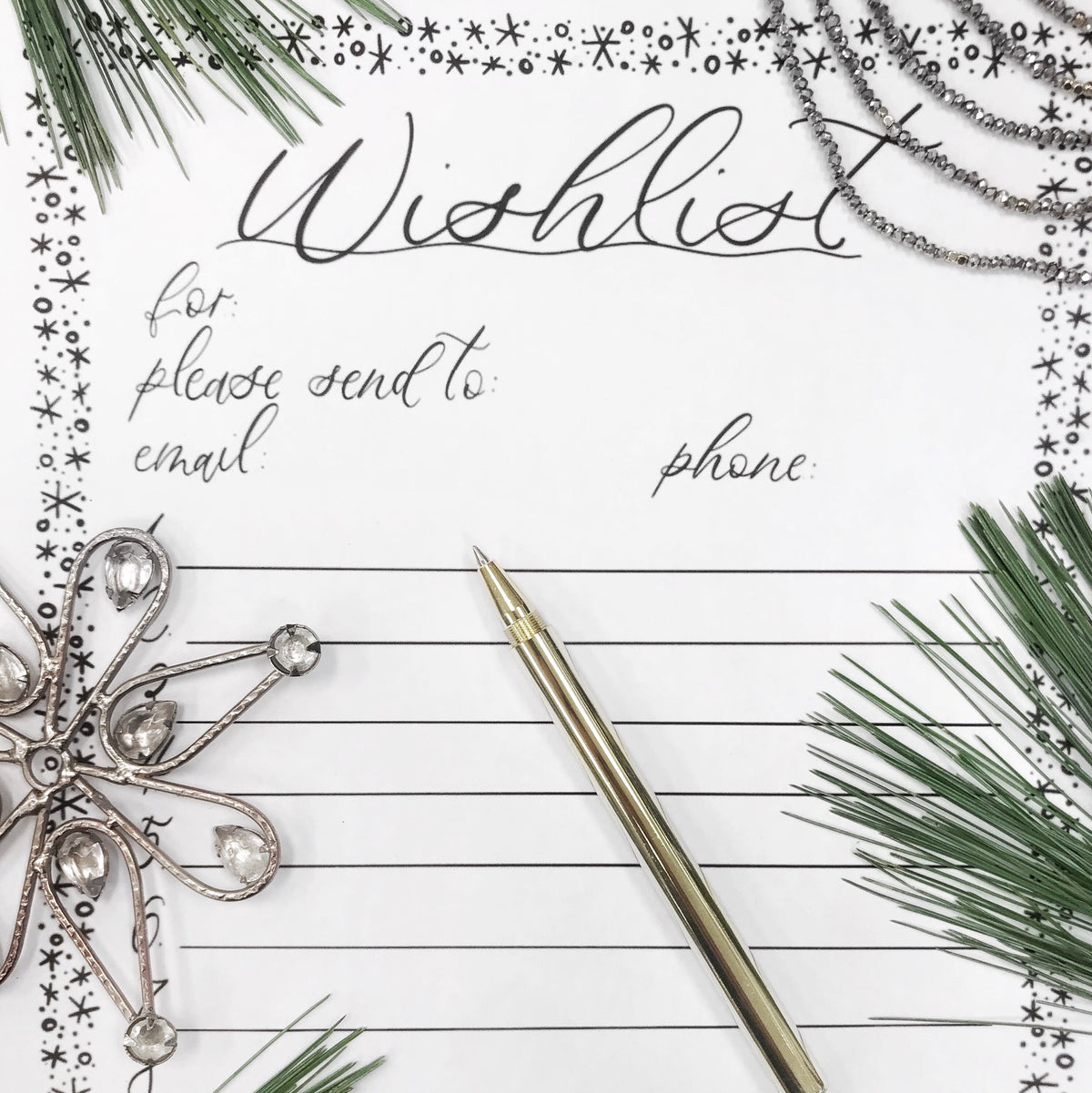 This holiday season, make some wishes for yourself and grant some for others! We're helping out by offering our Wish List service again, so let us be your elves and we'll share it with whoever you want. Need some inspo? We're sharing the wish lists filled out by some of our staff...
Kelsey Hughes
* I love stripes so DL1961's Margaux denim tuxedo stripe pair is a must for me.
* The Xirena Apres Ski striped sweater is too cute!
* A black clutch is a must-have and this fold over version by Able is super chic.
* I love a pretty coffee table book, and this one had me at CHANEL.
* This Indaba large knit blanket in white would be the perfect cozy addition to my living room, especially during the cold holidays!
Sienna Lohman + Sweet Baby Jude
* Jude just recently has begun to grasp things and put his hands in his mouth, so I know he'd love this 
byBabyBubbles Marble Teether.
* I've spoiled my little boy with Barefoot Dreams blankets so he totally needs this cozy cardi!
* I love anything cashmere, so this Oats Cashmere Wrap in charcoal will be perfect for breastfeeding out in public in a chic way!
* Most days I spend more time in my PJs than I want to admit #momlife. This 
Barefoot Dreams Adult Robe in dove gray
 will be the perfect addition during the winter months!
* Winter results in extra dry skin, and with less time for myself this year, this 
Herbivore Coconut + Rose Luxe Hydration Trio
would be the perfect, quick pamper sesh!
Melani Wilson
* I'm forever in love with Ambre Blends' original scent and I'd love a refill so I can be sure I never run low. 
* One of my favorite restaurants is Chef Jeremy Fox's Rustic Canyon in Santa Monica. His cookbook On Vegetables is a great way to keep it healthy over the winter season. 
* I'd take any Boy Smells candle, but I particularly love the new Stalker scent, which refers to veggies rather than anything nefarious. 
* Jenny Bird earrings add just the right amount of metallic sparkle to ensembles for both day and night.
* This Clare V Chou Chou bag is the softest leather and the shape is so chic. 
Sam Okrasinski
* Living away from my family, I always fly home for the holidays. This camel cashmere wrap is ideal for traveling and can be used as a scarf, wrap or blanket.
* I'm in love with Maison Louis Marie, especially their perfume. No. 4 is an absolute favorite, because it's fresh and light, not overpowering. I get so many compliments whenever I wear it.
* These Barefoot Dreams socks are so cozy, they make everyone happy. I'll definitely be giving some to friends and family this year, and I'd love a pair to match with my robe. 
* I've never met a candle I didn't like, but Simply Curated takes the cake. I love the Grapefruit and Bergamot candle because it's a beautiful mix of feminine and masculine scents. 
* The FoxSea Skin Soothing Balm is a necessity for me, especially during the colder months when my hands, and especially my cuticles, get super dry. I love the fact that the ingredients are all natural and that it's locally made. 
Jensine Koehlinger
* I'm so in love with Barefoot Dreams! This cardigan is so soft so it's top of my list this year.
* I like to pile on the blankets and this grey Indaba chunked blanket is perfection.
* I have every size S'well except for the Roamer, so that needs to change asap.
* I love the zip code glassware in store and I can't wait to mix up some cocktails while showing love for my hometown. 
* I can't wait to decorate my very own place with these gold Prisma accents.