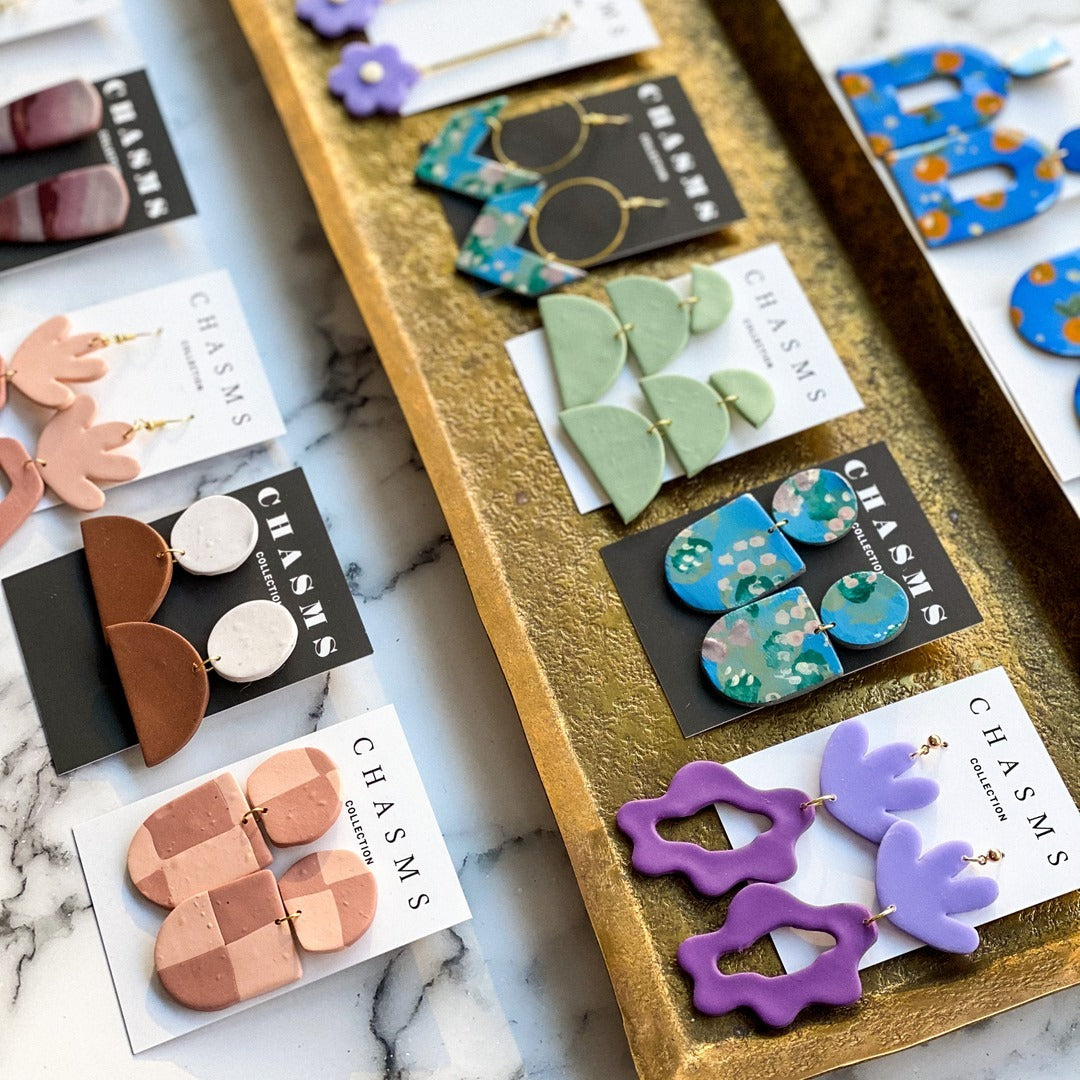 We're pleased to present this round up of some of our favorite women‑owned businesses: Fort Wayne jewelry maker edition. All brands can be found at The FIND, seen here on our fab local models from our latest photoshoot by the talented Ruth Yaro.
Does it get more fun than OFabz? Olivia's pom pom earrings make a big statement and are oh‑so‑playful! It's impossible to be in a bad mood wearing OFabz.
Cheyenne makes beautiful wall hangings, as well as gorgeous earrings, which we're happy to carry at The FIND! Each pair is like a little piece of art that you'll be sure to get compliments on with every wear.
Our very own Melani Wilson (owner of The FIND) is a talented maker herself! Her often one‑of‑a‑kind jewelry pieces are classic and timeless, featuring pearls and semi‑precious stones.
There is no one in the clay earrings game quite like Chasms. Ana handcrafts each pair of earrings with such intricacy and care, creating unique styles that you'll cherish for years to come. Chasms has quickly gained popularity in Fort Wayne and always sells FAST — so make sure you stop in to scoop up your own pair before it's gone!
Julie from The HEDGE is a close friend of The FIND, not only selling her goods in our store, but also designing vinyl stickers for our seasonal window displays! Everything she creates is incredibly unique, including her selection of statement jewelry you can shop at The FIND.
Sailor & Ruby is the latest addition to the creative local jewelry makers in Fort Wayne, focusing on pieces inspired by the sea as well as classical shapes and motifs from architecture and historical themes.
Head over to our Instagram page to view the original version of this guide!