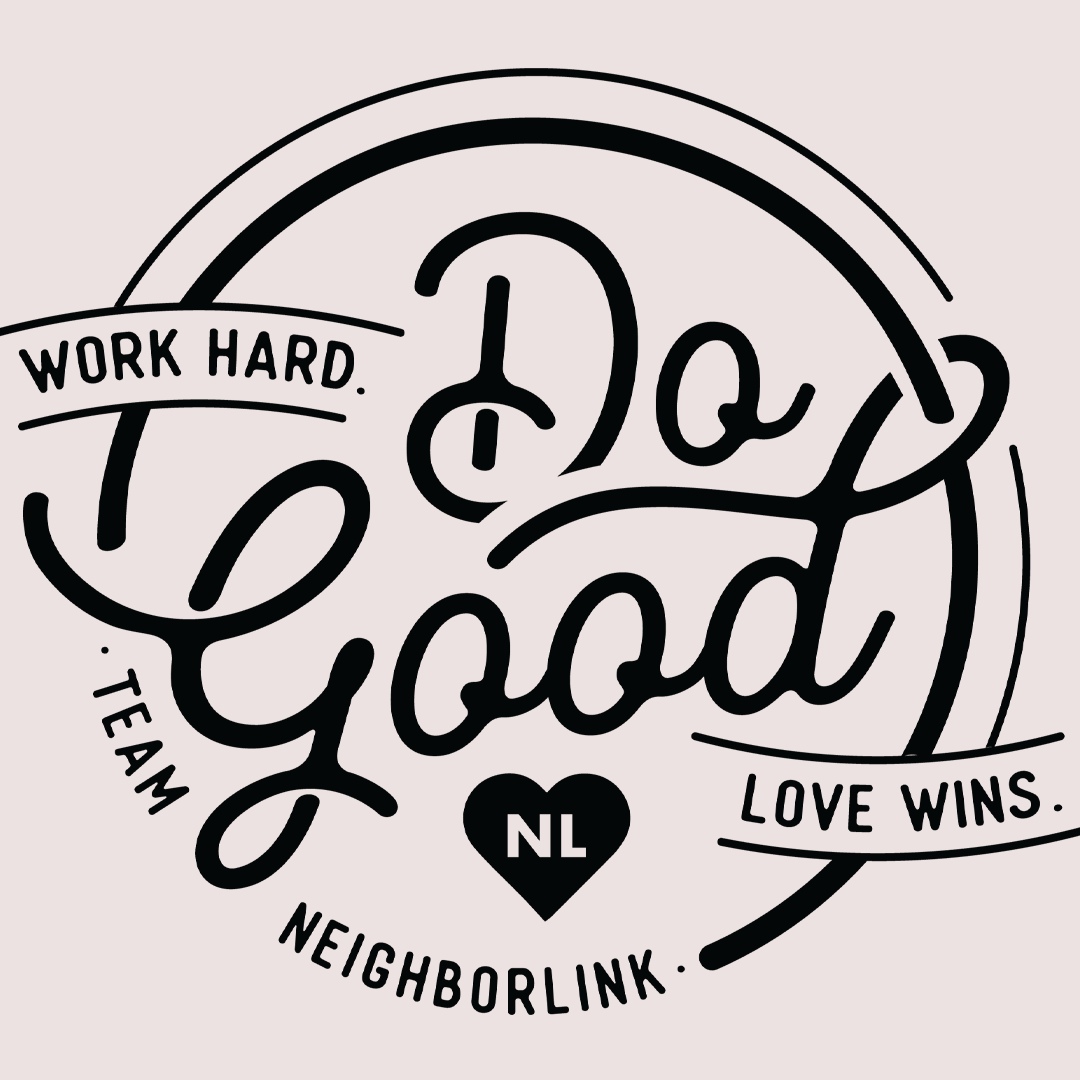 We have a heart for giving and for some very special local non profit organizations. This Giving Tuesday, we wanted to shine a light on a handful of these organizations -- friends that help encourage Fort Wayne to be a caring and vibrant community, a city full of people with generous hearts and spirits. We fully believe in and support their missions, and we love using our time, talent and treasure to help give them a boost. Please join us in celebrating their hard and valuable work by donating time and/or money. We are all stronger together!
NeighborLink
On December 5th & 6th, we'll be hosting a NeighborLink pop up in our foyer, where they'll be selling branded goods like hats, socks, T shirts, hoodies and water bottles. The money raised will help fund their ongoing mission of helping neighbors in need with hands-on home improvement work. From raking leaves to replacing furnaces and roofs, and myriad tasks and challenges in between, the volunteers of NeighborLink, and our friend, Executive Director Andrew Hoffman, change lives throughout our city throughout the year in very meaningful, tangible ways. During their pop up days, we'll be donating 10% of our sales to the organization. Learn more about NeighborLink here.
Center for Nonviolence
On December 12th, Change Your Fate, a local and very cool clothing company, will be popping up in our foyer from 11 - 3p. The line of apparel and accessories, often referred to as CYF, features designs by graphic artist/owner Raul Perez, on soft T shirts, sweatshirts and hoodies, as well as beanies and baseball caps, joggers, aprons, bags and art prints. The most recent CYF collection was created specifically to benefit the Center for Nonviolence, an organization that "provides education, support and advocacy to end domestic and other forms of violence while modeling equality and power sharing." The exclusive illustration is available on limited edition T shirts and sweatshirts, as well as an art print in four distinct and stylish color options. This collection and more will be available at the pop up at The FIND and a portion of the day's sales will benefit the organization's efforts. Learn more about the Center for Nonviolence here.
Friends & Family Fund for Southeast Fort Wayne
Our good pal Kristin Giant of Hyper Local Impact created some incredible forward motion this summer, in response to the racial inequality crisis, leading to the creation of the Friends & Family Fund for Southeast Fort Wayne. We've contributed in a variety of ways, and will continue to do so. Our final push for this organization in 2020 is raising money so the fund can continue to allocate grant money to minority owned businesses on the southeast side of the city. The FIND is matching up to $1000 from the funds raised by our beautiful, Afroplump designed meter, as part of the Meters with a Mission project, conceived of and hosted by Greater Fort Wayne Inc. Read more about the Friends & Family Fund, Hyper Local Impact and Meters with a Mission here.
Boys & Girls Club
This summer, we committed 10% of one month's sales to help fund BGCA's invaluable local programming. Ashley, a part timer on Team FIND, works full time for Fort Wayne Community Schools at Abbott Elementary, and shared a lovely story with us on our blog about the impact the BGCA has on daily life for Fort Wayne students. We're proud supporters of this organization and will continue to find new ways to help them meet their goals. Learn more about their work here.